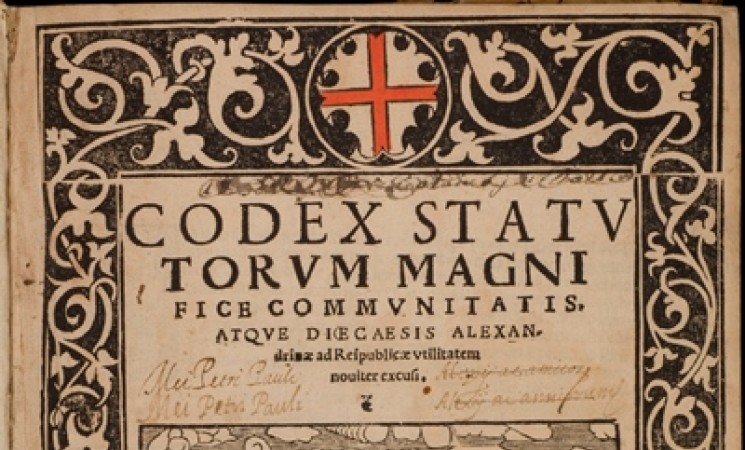 Alessandria (Italy), Codex statutorum magnifice communitatis, atque dioecaesis Alexandrinae ad reipublicae utilitatem noviter excusi (Alexandriae: [Francischus Muschenus et fratres], 1547).
The holdings of printed and manuscript Italian statutes represent the most significant collection of such statutes outside of Italy. The collection contains over 1,500 printed volumes and 60 manuscripts of statutes, dating from the Middle Ages to the 19th century. Featured are statutes from large commercial centers, like Florence and Venice, and those of smaller and larger towns, like Montebuono, Fano and Velletri. Included also are statutes of guilds and confraternities. The collection offers extraordinary insight into the development of Italian municipal history and Italian history more broadly.
The core of the collection was acquired in 1946. Law Librarian Samuel Thorne described the acquisition in his annual report: "The outstanding acquisition of the year was the notable collection of Italian statuta, numbering almost nine hundred volumes, purchased from a learned Italian lawyer who had brought it, over a period of fifty years, to its present completeness. It contained fifty-two manuscripts of the fourteenth to eighteenth centuries, nine incunabula, and many sixteenth-century editions, more than a few unknown to Luigi Manzoni whose 'Bibliografia statutaria e storica italiana' is the standard bibliography of the class." Most of that acquisition has been identified and is linked via the record for the Italian Statutes Collection, 1946 (Accession no. 46-209).
Manuscripts in the Italian Statute Collection, Yale Law Library is a regularly updated list of complete manuscripts and printed books with manuscript additions.