Bookplate of an early New Haven lawyer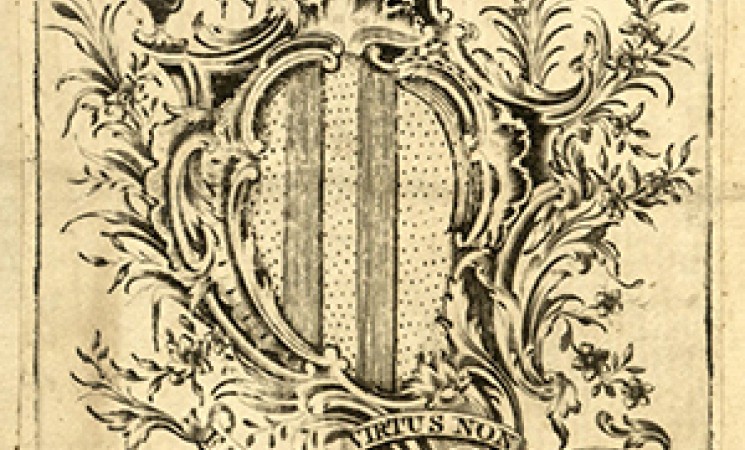 The Rare Book Collection recently acquired the first edition of Henry Ballow's Treatise of Equity (London, 1737) because it is the first edition of a work that was the standard treatise on equity in the century before the publication of Joseph Story's Commentaries on Equity Jurisprudence (Boston, 1836). In his History of English Law, William Holdsworth writes that Ballow on Equity "can be taken as a good starting point for the history of the development of many of the principles and rules of modern equity."
What made this particular copy so desirable is its provenance. It bears the armorial bookplate of Jared Ingersoll Sr. (1722-1781), an early lawyer in New Haven. The shield includes the family motto: "Fama sed virtus non moriatur" (Fame, but not virtue, will die). Ingersoll also signed the title page and the signature on the title page "Jared Ingersoll's Nove.r 1751".
Jared Ingersoll was born Milford, Connecticut, and graduated from Yale College in 1742. He embarked on a legal career and was appointed King's Attorney for New Haven County in 1751, around the time he acquired our book. Ingersoll acquired considerable notoriety when he returned from a trip to England in 1765 with an appointment as the Crown's agent for collecting the hated Stamp Tax. He was reportedly burned in effigy in several towns, and a crowd of 500 intercepted him in Wethersfield, Connecticut, on his way to Hartford to seek refuge with the General Assembly, forcing him to resign his post. His other claim to fame is as the father of Jared Ingersoll, Jr., a member of the Constitutional Convention in 1787 and an unsuccessful candidate for vice president in 1812 on the Federalist ticket.
For more information on Ingersoll, see his Wikipedia entry, which includes a portrait. He is the subject of a full-length biography: Lawrence Henry Gipson, Jared Ingersoll: A Study of American Loyalism in Relation to British Colonial Government (New Haven: Yale University Press, 1920).
– MIKE WIDENER, Rare Book Librarian