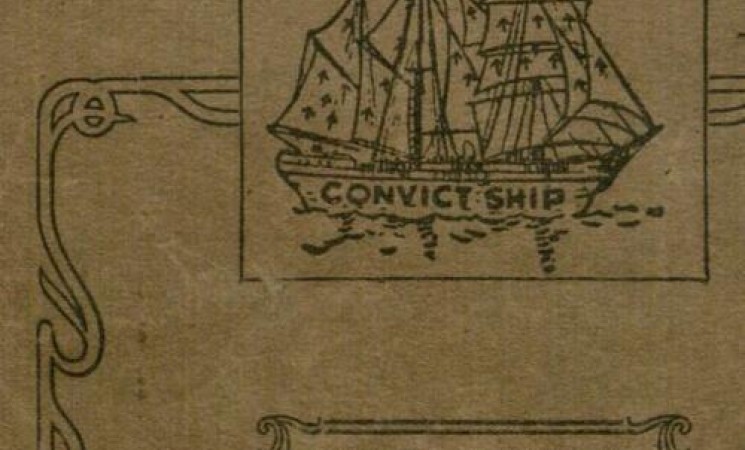 Shown left: "Published on board the convict ship 'Success' ": Detail, The History of the Convict Ship 'Success' (1912); call# SSP H629. 
Just posted: an online image gallery from the Lillian Goldman Law Library's Rare Book Collection, curated with Arthur Liman Professor of Law Judith Resnik.  This new gallery of images from the collections was created to accompany the "Incarceration and Imagination" symposium, organized by the Whitney Humanities Center, Arthur Liman Center for Public Interest Law, and Freedom Reads.
Also on view: an accompanying exhibition at the Beinecke Library, on view through October 23, 2022.   Visit the Beinecke Library mezzanine to see this temporary exhibition of extraordinary items from the Beinecke Library collections, including:
"Journey's End," (shown above). Pencil sketch of a prison courtyard by Chester Himes, in the manuscript drafts and notes for Cast the First Stone. Shown alongside "Rules for the Guidance of Relatives of Inmates / Write Plainly in English," a letter to Himes from Prince Rico, typed on Ohio State Penitentiary letterhead;
The manuscript autobiography and prison narrative by a Black author, Austin Reed, writing of his experiences in the New York State Refuge and Auburn State Prison.Austin Reed, The Life and Adventures of a Haunted Convict, or the Inmate of a Gloomy Prison.  [N.p.], [1858].  
Manuscript notes on imprisonment for debt, June 1831, showing a list of prisons including Blackwell Island, Bridwell, and Bellevue. From Alexis de Tocqueville's and Gustave de Beaumont's manuscript notes from their trip to America, April 1831-April 1832.