In Memoriam: Batton Lash (1953-2019)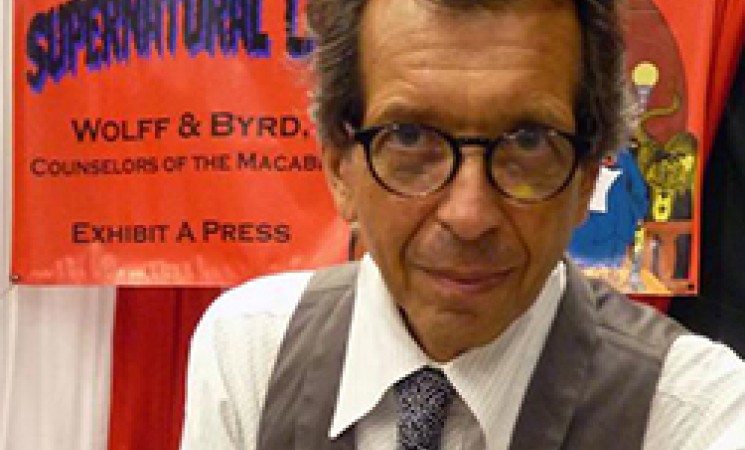 Our Rare Book Collection aggressively collects the works of several authors. Most of them are English lawyers and judges from long ago, most notably Sir William Blackstone. The exception is the comics author Batton Lash, a Brooklyn native. Our collection of his Supernatural Law comics is the most complete of any library in the world. I am sad to report that Batton Lash passed away January 12, after a long battle with brain cancer.
Supernatural Law documents the exploits of Wolff & Byrd, "Counselors of the Macabre." The duo made their debut in 1979 in a comic strip for The Brooklyn Paper, which also ran in The National Law Journal from 1983 to 1997. In 1994 Lash and his wife Jackie Estrada founded Exhibit A Press and published over 50 bimonthly issues of Supernatural Law, including several starring Wolff & Byrd's legal secretary, Mavis. They have also issued 17 trade paperbacks, such as The Gods Must be Litigious (2010) and the most recent, Supernatural Law: Grandfathered In (2018). Three of the titles have been translated into French and Spanish. Estrada and Lash also authored an excellent bibliography, The Supernatural Law Companion: A Reader's Guide to Wolff & Byrd (2015), complete with back stories and anecdotes. Lash relied on a lawyer friend, Mitch Berger, to vet the comic for legal accuracy.
Batton Lash was known as an innovator in the comics world. Exhibit A Press was a pioneering venture in self publishing. Lash was one of the first comics artists to publish online, at https://supernaturallaw.com/. His colleagues dubbed him the unofficial "Mayor of San Diego Comic-Con."
The Yale Law Library's collection grew out of my parallel interests in legal illustration and law & popular culture. Supernatural Law comics were included in our 2010 exhibition, "Superheroes in Court: Lawyers, Law and Comic Books," and in our 2017 exhibition at the Grolier Club in New York City, "Law's Picture Books: The Yale Law Library Collection."
Batton Lash's death prompted an outpouring of eulogies in social media, where friends and colleagues remembered him as witty, unfailingly kind, and as a very sharp dresser. The Comics Reporter has compiled links to dozens of eulogies. See especially the obituaries in The Brooklyn Paper, The San Diego Reader, The Comics Journal, and the San Diego Union-Tribune.
I regret that I never had the privilege of meeting Batton Lash in person. My deepest condolences to his widow, Jackie Estrada, and to all who knew and loved him.
– MIKE WIDENER, Rare Book Librarian
Batton Lash, Zombie Wife, and Other Tales of Supernatural Law (San Diego: Exhibit A Press, 2014).