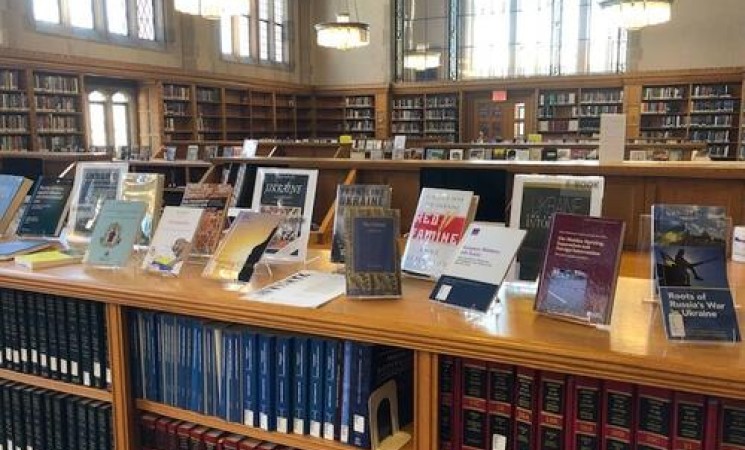 The law library has put on display in the Reading Room on L3 selections of books from our collection relating to histories of Russia and Ukraine. The list of books traces the breakup of the Soviet Union and Ukraine's separation from Russia in 1991, to the annexation of Crimea in 2014 and the culmination of the current crisis. They highlight the historical, ethnic, ideological and socio-economic divides between western and southeastern Ukraine on the one hand, while on the other hand, attempt to delineate the historical, socio-economic and geopolitical factors behind Russian illiberal resurgence.
The centerpiece posters placed in the display cabinet on L3 are that of art works by
Maria Oksentiyivna Prymachenko
(Марія Оксентіївна Примаченко) (January 12, 1909 – August 18, 1997), self-taught iconic Ukrainian folk art painter.  On February 28 2022, the
Ivankiv Historical and Local History Museum
, located northwest of the capital city Kyiv, was destroyed, along with 25 works by Prymachenko. Her work
"A Dove Has Spread Her Wings and Asks for Peace"
(1982) is as much a symbol of Ukraine's national identity as a symbol of peace. Alongside the posters are stamps of Ukraine issued at various times from the stamp collection of Cesar Zapata.
The compendium exhibit on L1 showcases the law library's international law collection on the development of the Crime of Aggression, traces its origins in the UN Charter to the Kampala Review Conference of the Rome Statute in 2010.
To explore related items in the law library collection, search
Morris
/
QuickSearch
with Subject Headings:
Ukraine – Foreign relations – Russia (Federation)       
Russia (Federation) – Foreign relations – Ukraine.
Ukraine – Boundaries – Russia (Federation) 
Russia (Federation) – Boundaries – Ukraine.
Borderlands – (Ukraine or Russia (Federation))
Ukraine Conflict, 2014-
Crimea (Ukraine) – Annexation to Russia.
Ukraine – Politics and government – 1991-
Europe, Eastern – Politics and government – 1989-
The book displays are prepared by Lucie Olejnikova, Maryellen Larkin and Evelyn Ma, with thanks to Cesar.