New exhibit: "Law Books Bright and Beautiful"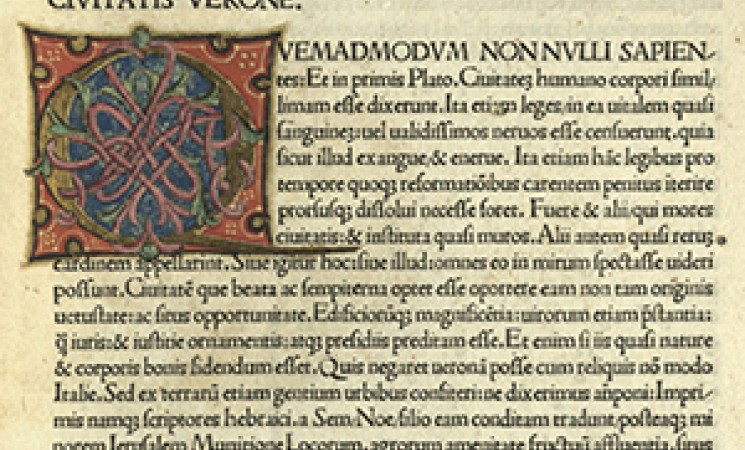 Although law books may not be known for their beauty, two dozen lovely exceptions are on display in the Lillian Goldman Law Library. "Law Books Bright and Beautiful: Examples from the Yale Law Library Collection" is on display February 26 - June 1, 2018, in the Rare Book Exhibition Gallery, located on Level L2 of the Yale Law School (127 Wall Street, New Haven CT).
The exhibition was curated by Rare Book Librarian Mike Widener. He selected the books for the beauty of their typography, decoration, or overall design.
The volumes range from a 13th-century illuminated manuscript to modern fine press books on famous American trials. Other volumes include the mining laws of New Spain (1783), the statutes of Verona (1475), and a stunning book of French customary law (1540) printed on parchment with initials in gold leaf. Three of the books were chosen for their colorful endpapers.
Images from the exhibition are being uploaded to an album on the Rare Book Collection's Flickr site, "Law Books Bright and Beautiful." Images from other beautiful law books will be added as time allows.
"Law Books Bright and Beautiful" is the latest in a series of exhibitions aimed at promoting the study of law books as objects. It follows two exhibitions dedicated to illustrations in law books. Bindings will be showcased in an upcoming exhibition.
For more information, contact Mike Widener, Rare Book Librarian, email mike.widener@yale.edu> or phone (203) 432-4494.
Senlis (France). Les coustumes des duchez contez & chastellenies du bailliage de Senlis. Paris: Galliot du Pre & Jean Andre, 1540.