New exhibit: "The Pope's Other Jobs: Judge and Lawgiver"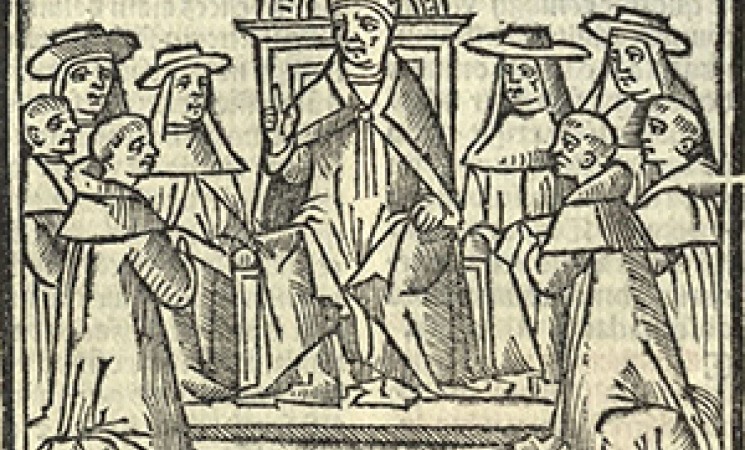 The Pope is universally known as the spiritual leader of the Roman Catholic Church. But it is often forgotten that for much of the papacy's history the Pope was the most important judicial and legislative authority in western Europe.
A new exhibition at the Yale Law Library, "The Pope's Other Jobs: Judge and Lawgiver," illustrates the Pope's legal responsibilities throughout history using rare books and a medieval manuscript from the Law Library's outstanding collection. It is curated by Anders Winroth, Forst Family Professor of History, Yale University, and Michael Widener, the Law Library's Rare Book Librarian. Winroth is one of the world's leading authorities on medieval canon law.
"In the Middle Ages, canon law (the law of the church) took center stage as a most sophisticated legal system, not only inspiring much secular law but also becoming recognized as the sole authority in several legal fields, such as the law of marriage, the law of just war, and the legal implications of oaths," said Winroth. The books and manuscripts in the exhibition show how the papacy has shaped areas as diverse as human rights, international boundaries, due process, and marriage law. Many of the legal rights that Americans take for granted, such as the presumption of innocence and the right against self-incrimination, are rooted in the decrees and judicial decisions of medieval popes.
The exhibition is on display September 8-December 15, 2015, in the Rare Book Exhibition Gallery, located on Level L2 of the Lillian Goldman Law Library, Yale Law School (127 Wall Street, New Haven, CT).  It will also appear here in the Yale Law Library Rare Books Blog.

– MIKE WIDENER, Rare Book Librarian