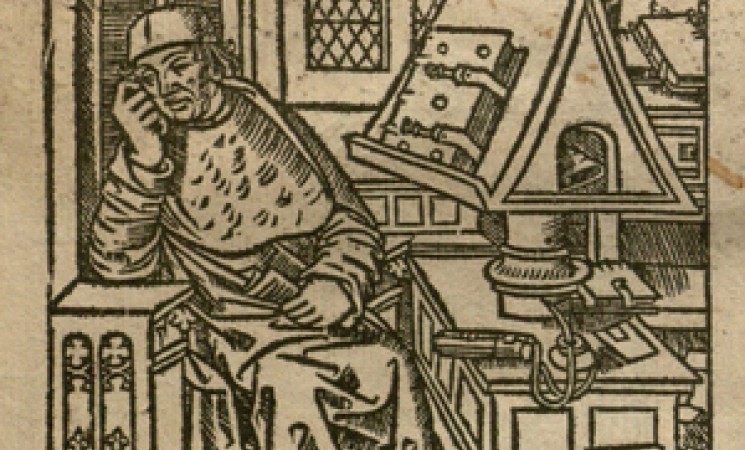 The forlorn figure adorning Lodovico Pontano's Singularia (1510) reflects some of my emotions on this, my last day as the Rare Book Librarian at the Lillian Goldman Law Library. It has been a distinct honor and privilege to work in a library that aspires to be the best academic law library in the world.
In an interview on the Yale Law School website, I was asked what makes our Rare Book Collection special to me. I'll simply repeat my answer here:
For me, it is the human element that pervades every aspect of the collection. Books produced before the Industrial Age are handmade objects, often bearing the marks and scars of their use and their movement from one hand to another. Our collection bears the imprint of the professors and librarians who formed it, beginning with the Founders (Staples, Daggett, and Hitchcock), followed by law librarians such as Albert Wheeler, Frederick Hicks, Samuel Thorne, and Morris Cohen. It is a collection I have had the privilege of enhancing and sharing with students, faculty, and scholars, with the support and encouragement of past library directors Blair Kauffman and Teresa Miguel-Stearns, my supervisor the incomparable Fred Shapiro, and the finest academic law library staff in existence. At their best, collections such as ours are profoundly social instruments.
I will only add one more thank-you, to the librarian and scholar who inspired me to become a librarian, who collaborated with me on numerous projects, and who has been an unfailing source of advice, and support: my wife Emma Molina Martín del Campo de Widener. Un beso, mi amor.
Thanks to all whom I have worked with for a wonderful fifteen years. I'll miss you.
MIKE WIDENER
Rare Book Librarian