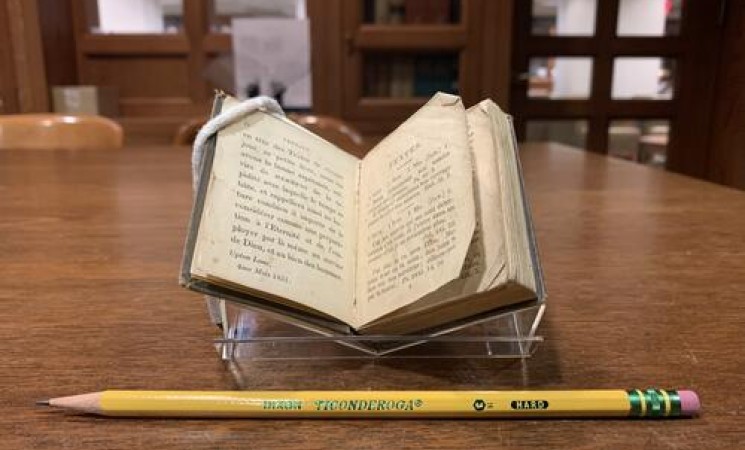 In 1839, the English Quaker, Elizabeth Fry, published this pocket-sized devotional work, intended for distribution to women prisoners in France.  Fry was a dedicated advocate for prison reform and a founding member of the Ladies' Association for the Reformation of the Female Prisoners in Newgate, reconfigured in 1821 as the British Ladies' Society for Promoting the Reformation of Female Prisoners.   Between 1838 and 1843, Fry made five visits to European prisons.   
Published in French, and intended for women prisoners, Fry's Textes ou sujets de méditation, pour l'année (ca. 1839) counted out the year in 365 short daily readings, with the recommendation that each be read and memorized, first thing after rising each morning.  The opening above shows the first reading, for "1 JOUR. 1 SEM. 1 Mo. (Jan. 1)," taken from Psalm 90, verse 9:  "Nous consumons nos années comme une pensée.  Ps. Xc. 9." [Psalm 90 KJV, "We spend our years as a tale that is told."].   Fry inscribed this copy:  "donne par [Madame] Elisabeth Fry, elle meme. Ce 25 Juillet 1839 [Given by Madame Elizabeth Fry, herself. This July 25 1839].  
Acquired from Justin Croft, the work offers an unusual instance of rehabilitative reading, as envisioned by a Quaker English woman for French women prisoners.  It adds to the Rare Book Collection's holdings on the history of English prison reform movements, which include works such as Jeremy Bentham's Panopticon: Or, the Inspection-House (1791) and Charles Dickens' observations on Eastern State Penitentiary in Philadelphia, published in his American Notes (1842).