Built by Association: Justice Noah Swayne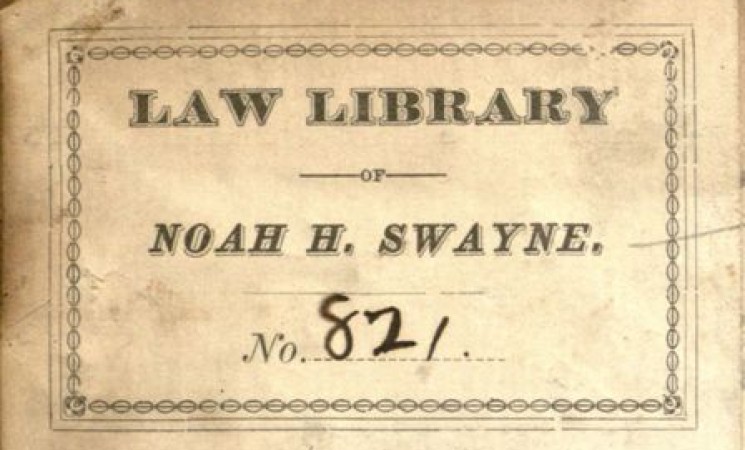 Justice Noah Swayne's copy of Giles Jacob's New Law Dictionary (1782).
U.S. Supreme Court Justice Noah H. Swayne (1804–1884) served on the Court from 1862 to 1881. Appointed by President Abraham Lincoln, Swayne spent much of his time lobbying to be appointed Chief Justice. His judicial career has been called (in the American National Biography) a "monument to mediocrity."
The endpapers give clues to the book's previous owners before I acquired it around 2004. The original owner seems to have been John Buckland, a cleric who received degrees from Corpus Christi College, Oxford, in 1762, 1765, 1769, and 1778. Buckland died in 1837 in Warborough, Oxfordshire. Later the book became the property of Justice Swayne, who in 1872 miscited it in a Supreme Court opinion, Lapeyre v. U.S., first acknowledging that "it could serve no useful end particularly to refer to [it]," and then referring to it incorrectly as "Jacobs's" Law Dictionary.) The next known owner was the legal historian Samuel E. Thorne, Professor of Law and Law Librarian at Yale (from 1945) and then law professor at Harvard (from 1956). Thorne died in 1994 at the age of 87. Note that his red bookplate uses the Old English character known as the "thorn."
          – Bryan A. Garner
"Built by Association: Books Once Owned by Notable Judges and Lawyers, from Bryan A. Garner's Collection", an exhibit curated by Bryan A. Garner with Mike Widener, is on display until December 16, 2013 in the Rare Book Exhibition Gallery, Lillian Goldman Law Library, Yale Law School.