A Celebration of Women at Yale Law School: Honorable Ellen Bree Burns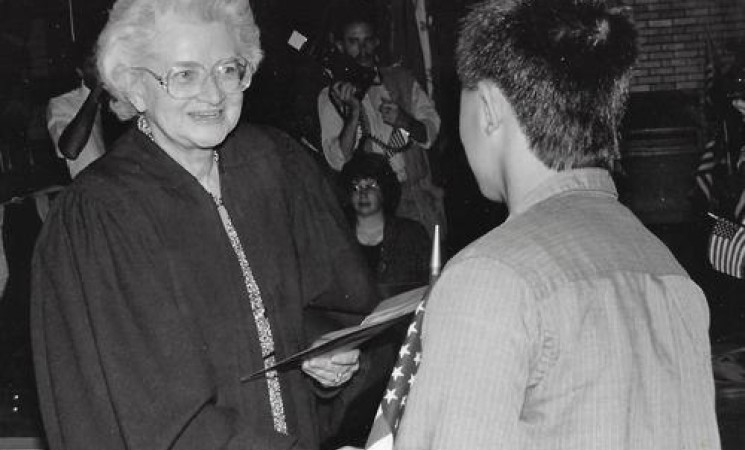 The Honorable Ellen Bree Burns '47 (1923 - 2019) was a native and life-long resident of Connecticut. Born in Hamden in 1923, Judge Burns received a Bachelor of Arts from Albertus Magnus College in 1944, and a Bachelor of Laws (J.D. equivalent) from Yale Law School in 1947. She dedicated her professional life to public service and was the first woman to serve on both a major state trial court and the federal bench in the state of Connecticut.
Upon graduating from YLS, Judge Burns became a special assistant to the Commission to Revise the Connecticut General Statutes (1947—48) and spent over twenty years as an attorney for Legislative Legal Services of the State of Connecticut (1949—73).
In 1973, Judge Burns was appointed to the Circuit Court of Connecticut, which merged with the Court of Common Pleas in 1974, and on which she served for four years (1973-76).  In 1976, she was elevated to the Superior Court of Connecticut where she served for two years (1976—78) before her nomination to the federal bench.
On February 15, 1978, President Jimmy Carter nominated Judge Burns to a seat on the United States District Court for the District of Connecticut. The United States Senate confirmed her nomination on May 17, 1978, and she received her commission on May 18, 1978. She served as Chief Judge from 1988 to 1992 and assumed senior status on September 1, 1992 – which gave her more time to perform her favorite professional activity, naturalization ceremonies! She assumed inactive senior status on March 31, 2015.
In addition to a ground-breaking and glass ceiling-shattering career, Judge Burns was a wife, mother of three New Haven lawyers (Joseph, Kevin, and Sr. Mary Ellen, ASCJ '89), and doting grandmother of seven and great-grandmother of two.
This exhibit was curated by N'Kiyah Galberth, Jordan Jefferson, and Teresa Miguel-Stearns. Credit to Judge Burns's children for providing the wonderful photographs in the exhibit. Our condolences to the family for their recent loss.