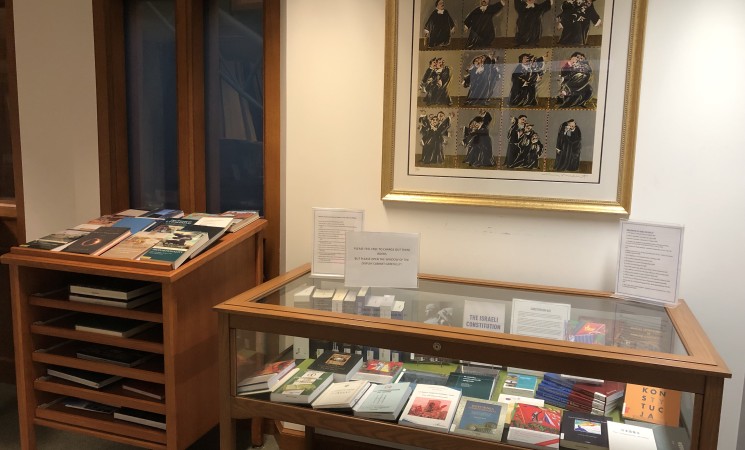 In celebration of the Constitution Day (September 17, 2023), a sample of primary and secondary sources related to global constitutional law in the law library collection is on display on L1 of the law library. Constitutional law is one of the selection foci of our domestic and foreign law collections and part of the display features many titles authored by our faculty, students, alumni, and affiliates.

The book display prepared by Lucie Olejnikova and Evelyn Ma includes examples of constitutional texts and commentaries from many jurisdictions, including Argentina, Belarus, Belgium, Bolivia, Brazil, China, Colombia, Chile, Cyprus, Ecuador, Finland, France, Germany, Greece, India, Israel, Italy, Japan, Kenya, Korea, Malaysia, Myanmar, Nepal, Netherlands, Nigeria, Nordic Countries, Peru, Poland, Portugal, Ukraine, Russian Federation, Singapore, South Africa, Spain, Sweden, Switzerland, Turkey, written in Chinese, English, French, German, Italian, Japanese, Korean, Spanish, and Portuguese.

In addition to commentaries and compilations of constitutional texts and treatises, the law library print collection also includes original official gazettes of many jurisdictions, where the texts of legislation, including the constitutions and their amendments are published. The law library eYLS collection includes digitized compiled readings of the annual YLS Global Constitutionalism Seminar, and circulating copies are located in the Upper East Side section of the Law Library under the call number K3165.A6 G56.

Key subscription electronic resources for conducting constitutional research include HeinOnline's World Constitutions Illustrated, Oxford Constitutions of the World and LLMC Digital. Many recent print acquisitions include publications from these series:
Open-access websites are helpful resources providing the needed context for studying progress and monitoring change. Constitute, an open-access project mapping the constitutions of the world, offers access to current, some historical, as well as drafts of constitutions. Users may view, read, analyze, and compare constitutions using the topical outline. World Policy Analysis Center's Advancing Equality website provides a plethora of information including: