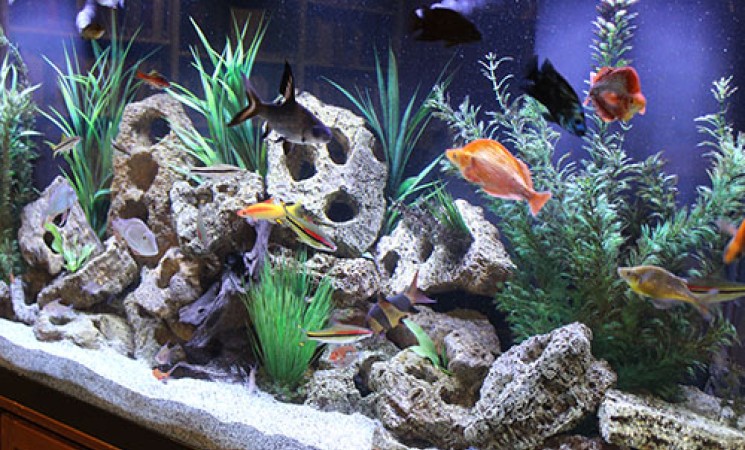 A Very Short Story about the Yale Law Library Fish Aquarium
We've got fish in our library.  And we are not referring to the uninspiring and dreaded fiche (microfiche) variety but beautiful freshwater creatures such as the Discus and Clown loach fish.  A hidden library treasure, beloved for many years by our students, the library aquarium was an unusual idea conceived two decades ago by Blair Kauffman,
Law Librarian and Professor of Law at the time.  Here's what he had to say when we contacted him recently to ascertain the provenance of the fish tank: "I'm proud to say that the fish aquarium was my idea …. once we completed the renovation, the UES seemed an ideal location."
For over two decades, the fish tank has been located on Level 1 of the Law Library, past the tunnel in the area affectionately referred to as the Upper East Side (UES). In 2020, the tank closed with the onset of COVID-19, only to return this year as we emerged from the pandemic.  The fish tank would not exist, let alone thrive were it not for the longstanding dedication of our aquarist, Shana Jackson whose regular job is to provide administrative support to the Law Librarian.  According to Shana, the most gratifying aspect of caring for the fish is "witnessing the enjoyment others experience when viewing the tank." She states further that "I love mixing different types of fish that make up our communal tank, it is the epitome of a diversity, equity, inclusion, and belonging (DEIB) environment."  Conversely, the most challenging aspect for her is the fluctuation of the temperature on the Upper East Side which is not conducive to maintaining the equilibrium of the tank. Another challenge was the change from saltwater to freshwater fish and the ensuing difficulty in locating freshwater species with vibrant beautiful colors.  Notwithstanding, Shana finds joy in this unusual aspect of her work, and we are immensely grateful for her commitment to maintaining a pleasant space for our community. She is also very quick to acknowledge the support from other library staff, Ben, Antonio, Yuksel, and Val.
If you are in our area, and in search of a tranquil environment, we invite you to visit our fish tank and to relax in a peaceful environment, against the backdrop of gurgling water, exquisite fish, and of course - books!  
For more about Yale Law Library fish, read the Yale Daily News article, Shelved Seas by Libbie Katsev.