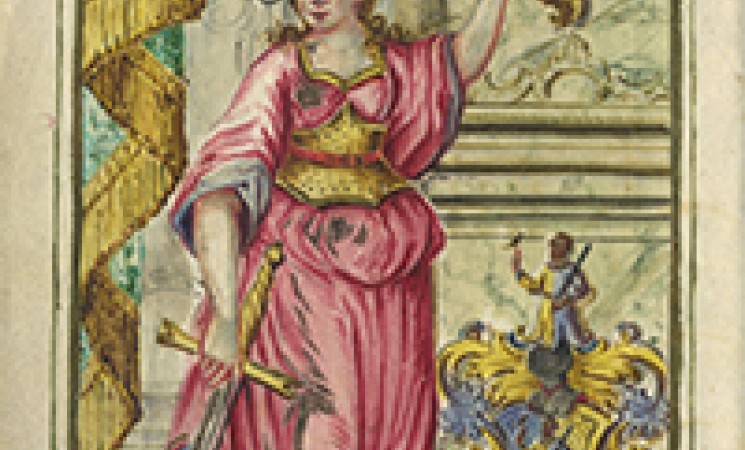 One of our outstanding acquisitions of 2016 was a lovely calligraphic manuscript with a hand-painted image of Lady Justice. The image was the unanimous choice to adorn the Lillian Goldman Law Library's 2016-2017 holiday card.
The manuscript is titled Der Reichs-Stadt Kaufbeuren Gerichts-Ordnung. It is a comprehensive guide to court procedure in the imperial city of Kaufbeuren in Bavaria, dated 1756 and authored by a local judge ("Gerichts Assessor"), Georg Friedrich Heinzelmann.
The image depicts a blindfolded Lady Justice with her left hand resting on the coat of arms of Kaufbeuren. The identification coat of arms in the lower right of the image had me and some of my colleagues stumped. One book dealer friend speculated that it might have some connection with St. Francis of Assisi, because of the figure with a bird in his hand. Not being familiar with this type of research, I made a number of Google image searches based on guesses, none of which uncovered an answer.
However, one of the recipients of our holiday card has come to the rescue. My friend Michael Laird, a rare book dealer in Lockhart, Texas, identified the arms as those of the author's family, Heinzelmann, and helpfully provided the source as proof: Neubecker, Grosses Wappen-Bilder-Lexikon, p. 134. Thank you, Michael!
– MIKE WIDENER, Rare Book Librarian