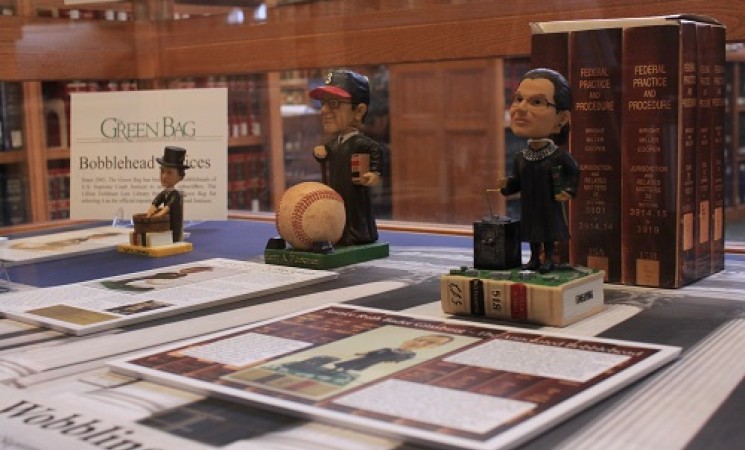 The Lillian Goldman Law Library is currently hosting a number of interesting exhibits on three floors. Please take a few minutes to visit as some will not be up too much longer: 
 
Wobbling Justice: An Exhibition of Supreme Court Bobbleheads. The Lillian Goldman Law Library is the official repository of the United States Supreme Court Justice Bobbleheads, created by the Green Bag. The Law Library holds all 25 Supreme Court Justice bobblehead and a handful of others. For an annotated description of the bobbleheads in our collection, see: http://www.greenbag.org/bobbleheads/pdfs/bobblehead_annotation_pdfs.html(link is external). Located on L3 in the main exhibit case.
A Celebration of Women at Yale Law School: Honorable Ellen Bree Burns. The Honorable Ellen Bree Burns '47 (1923-2019) was a native and life-long resident of Connecticut. Born in Hamden in 1923, Judge Burns received a Bachelor of Arts from Albertus Magnus College in 1944, and a Bachelor of Laws (J.D. equivalent) from Yale Law School in 1947. She dedicated her professional life to public service and was the first woman to serve on both a major state trial court and the federal bench in the state of Connecticut.  Located in the center of the L3 Reading Room. 
Banned Book Week. This year the library is highlighting the theme "Literature Locked Up" focusing on reading materials ban in U.S. prisons. The exhibit, located in the center of the L3 Reading Room, displays the "disapproved materials list" from 17 states. 
Trial by Media: The Queen Caroline Affair. Two centuries ago Queen Caroline of England was put on trial for adultery by her husband George IV, provoking an unprecedented media frenzy. Two Yale libraries, the Lewis Walpole Library and the Lillian Goldman Law Library, are marking the bicentennial of the trial with a join exhibition. The colorful exhibition is on display September 9 through December 19 in the Yale Law School on L2 outside the Rare Book Room. 
Blessed Barriers: Highlighting Foreign Language Materials in Law. This exhibit showcases the library's extensive foreign law collection. Legal history, constitutional law, civil rights, and environmental law receive a special emphasis in the collection, but many other subjects are collected aw well, including civil law and procedure, criminal law and procedure, commercial law, administrative law, family law and other ares of public and private law.  The exhibit, located on L1 in the Foreign and International Law Collection Reading Rom, brings to the attention of views the variety of works published in a vast array of languages from jurisdictions spanning the Continents.