Lionel Messi, one of the world's greatest football (i.e. soccer) players at the moment, is caught in the middle of a conflict.  His national squad, Argentina, has called him to play in the Olympics this month.  His club team, Barcelona, who pays his multi-million euro salary, does not want him to go because of Champion's League obligations.  Barcelona has appealed to the Court of Arbitration for Sport (CAS) for a ruling.  Here is the court's summary of the dispute:
The CAS has registered an appeal from FC Barcelona against the decision

made by the Single Judge of the FIFA Players' Status Committee

regarding the release of players for the Olympic Games. This appeal

will be handled together with the appeals filed by FC Schalke 04 and

Werder Bremen against the same FIFA decision. The CAS will deliver its final ruling on or before 6 August 2008.
FIFA, the Fédération Internationale de Football Association, the governing body of football, has long contended that players should be released to play with their national teams.  A single judge from the FIFA Players' Status Committee ruled on July 30, 2008 that the clubs must release their players to the national teams.  This ruling was appealed by the clubs to the CAS.
AUGUST 6 UPDATE:  According to Reuters, the Court of Arbitration for Sport has shockingly ruled that club teams may recall their players from their national teams!  Regardless, both FIFA President Sepp Blatter and International Olympic Committee President Jacques Rogge are calling on the clubs to allow their players to remain in China to compete in the Olympics.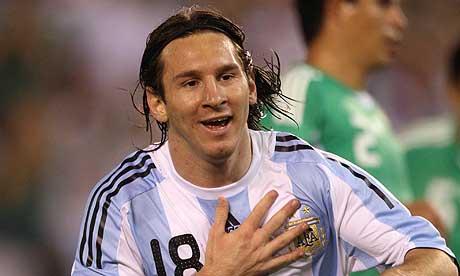 Photo of Lionel Messi in his Argentina kit from the Guardian: CAS steps in to stop players heading to Beijing.
The Yale Law Library has quite a few resources pertaining to the Court of Arbitration for sport such as:
We also have other titles dealing with various aspects of sports law:
There are many sports law journals, too (do a subject heading search in Morris, for example: Sports - law and legislation - united states - periodicals):