New exhibit: 250 Years of Blackstone's Commentaries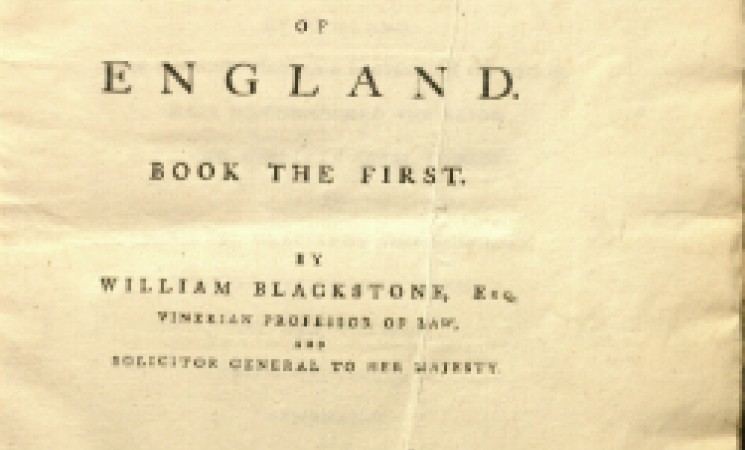 This year is the 250th anniversary of the publication of Sir William Blackstone's Commentaries on the Laws of England, the single most influential book in the history of Anglo-American law. The Yale Law Library, home to the world's largest collection of Blackstone's works, is marking the anniversary with an exhibition, "250 Years of Blackstone's Commentaries."
More than 40 items, all from the Yale Law Library's collection, depict the origins of the Commentaries, its remarkable success as a textbook, and its impact on both legal and popular culture. The items include a volume annotated by one of Blackstone's students, a legal treatise with Blackstone's own handwritten marginalia, the first English editions of the Commentaries, early Irish and American pirated editions, abridgments, teaching aids, student manuscripts, critiques, translations (into French, German, Italian, and Chinese), and a 1963 liquor advertisement.
The exhibition is curated by Wilfrid Prest and Michael Widener. Prest, Professor Emeritus of History and Law at the University of Adelaide, is the author of William Blackstone: Law and Letters in the Eighteenth Century (Oxford University Press, 2008), the definitive biography of Blackstone, and numerous other works on Blackstone. Widener is the Rare Book Librarian at the Lillian Goldman Law Library, Yale Law School, and is on the faculty of the Rare Book School, University of Virginia.
The exhibition is on display through June 2, 2015, in the Rare Book Exhibition Gallery, located on Level L2 of the Lillian Goldman Law Library, Yale Law School (127 Wall Street, New Haven, CT). The exhibition will then travel to London, where it will be on view September through November 2015 at the library of the Honourable Society of the Middle Temple, which was Blackstone's Inn of Court. From December 2015 to February 2016 it will be at the Sir John Salmond Law Library, University of Adelaide.
In conjunction with the exhibition, the Yale Law Library will host a talk on April 17 by Cristina Martinez of Carleton University, who contributed "Blackstone as Draughtsman: Picturing the Law" to the collection edited by Prest, Re-Interpreting Blackstone's Commentaries (2014). Her talk will be accompanied by Mark Weiner's video, "Blackstone Goes Hollywood," which includes an interview with Prest.
A catalogue of the exhibition will be published, with the generous support of William S. Hein & Co.
– MIKE WIDENER, Rare Book Librarian