The Taussig Collection: Beinecke Manuscripts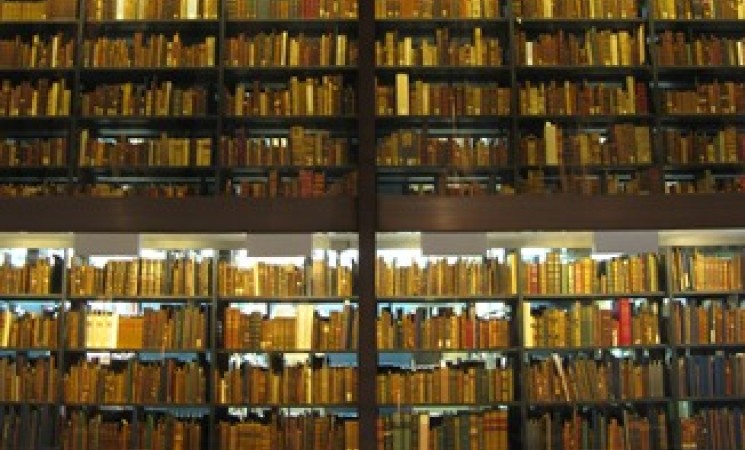 This summer saw the Library's acquisition of extraordinary printed works on English law from Anthony Taussig, as well as his legal and law-related manuscripts, which were acquired by the Beinecke Rare Book and Manuscript Library. These manuscripts include printed works with significant annotations, and now form part of the Osborn Collection of English Literary and Historical Manuscripts. The Beinecke's Taussig Collection has ample treasures waiting for students and researchers, from 13th-century manuscripts to notable correspondence of 19th-century English judges and politicians, and works by some of the great English legal writers and lawyers.

An excellent finding aid for the Beinecke's Taussig Collection is available online through the catalog record in Orbis. The collection is also physically significant, comprising 48.29 linear feet and 73 boxes which contain around 400 manuscript items. Highlights include a late 13th-century manuscript of Bracton's De Legibus et Consuetudinibus Angliae ("On the Laws and Customs of England"), among other medieval manuscripts; the main archive of the manuscripts and annotated books of Sir Michael Foster, a noted 18th-century justice of King's Bench; correspondence of William Blackstone, the great 18th-century English jurist, and a great variety of treatises, annotated law books, student notes, pocket diaries, trial notebooks and case reports, all dating from the 13th- through 19th-centuries.

Referring to Taussig's collection of printed and manuscript materials, the Beinecke's news release said it well: "Together, these form the world's most extensive private collection ever assembled for the study of the cultural and intellectual history of law in England." It is a peerless collection and a boon to students of English legal history.

Before consulting the collection, students and researchers may want to check the great printed guide to the Taussig manuscripts, A Catalogue of the Legal Manuscripts of Anthony Taussig (London: Selden Society, 2007), compiled by the eminent legal historian Sir John H. Baker. The catalogue offers a perfect starting point for further work, particularly since the Beinecke's collection has maintained the numbers and order of the printed catalogue.

Stay tuned for a few glimpses at items from the Beinecke's Taussig holdings…

–RYAN GREENWOOD, Rare Book Fellow