Library Tip: Collaborative Work Space in Library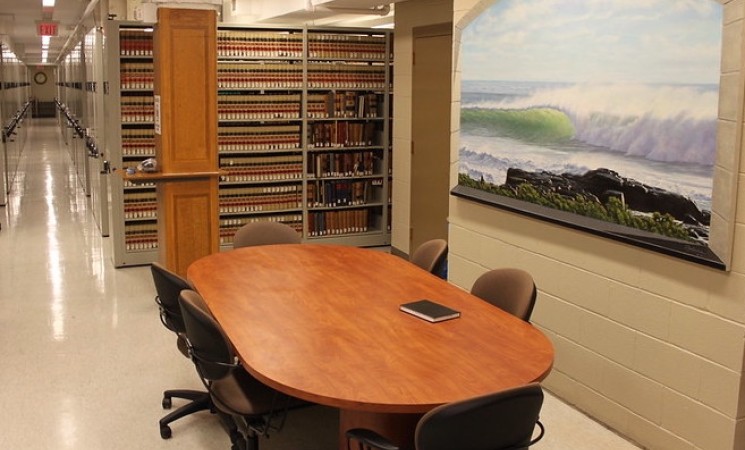 Dear Students:
Have you ever been to the Law Library's Lower East Side? You don't have to take a train or subway to get there, but you do have to do a bit of searching and exploring to find it. There is only one access point – a stairway at the end of the L1 tunnel, to the left, as you enter the Upper East Side.
What will you find there? In addition to the foreign collection and old U.S. state material, you will find the library's only designated collaborative work space in the middle of the room. You will find several tables, comfortable chairs, a white board, and a multi-function printer/scanner/copier. This area is meant to be a talking space within the library where you and your classmates can hold impromptu or scheduled study sessions, reading groups, or source cites, for example. You can schedule time for one of the two areas through Law Library Administration on L3.
What is the story behind this odd space?
This floor was created as a high-density storage area with closed stacks – a warehouse of sorts. Originally, material had to be paged for retrieval because it was not accessible to our patrons. However, as the collection grew, this area was converted to open stacks. The use of this space is limited because it is only accessible by stairway. Several years ago the library began to brighten up this space by, for example, adding the beautiful murals by a local artist. Three years ago, the Law Library solicited your (and your predecessors') opinion regarding how to re-purpose this area to make it more usable, and overwhelmingly you suggested we create collaborative work space, which we have done. We actually created two separate spaces as you will note from the attached (below) photographs. One of the areas is a large conference table, the other is four (4) smaller, movable tables and lots of comfy chairs. There is also a whiteboard, a leather lounge chair, wireless Internet access, and a multipurpose printer/scanner/photocopier accessible with your Yale ID or NetID and password.
We once again thank you for your contribution to the redesign of this part of the Lower East Side and we hope you will enjoy and utilize the area as you suggested. Indeed, if you have ideas to make this (or any) space even better, please do not hesitate to send me your suggestions.
Warm regards,
Your Law Library
lawlib.admin@yale.edu